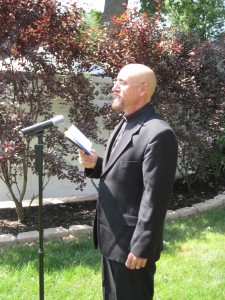 Your wedding ceremony and vows reflect the uniqueness of your relationship, and captures the celebration of your love, which has brought you to this memorable moment in your lives.
Whether you want a traditional or a contemporary ceremony, As a diverse Wedding Officiant I can make your day a truly wonderful experience. Your wedding will be unique, personalized and to your complete satisfaction.
I will help you to…
Design a wedding ceremony that is beautiful, elegant and personalized, and unique to you.
Ensure that your ceremony reflects the personal values and/or spirituality that you both share.
Create a ceremony that speaks of your mutual love, loyalty, commitment and respect.
Before you reserve your ceremony…
You can receive a free personalized wedding package with many great wedding ideas for wedding ceremonies in Pa, NY, NJ and De.
You can meet me or if I am not available for your date, your officiant, face-to-face and free of charge before you make any decision. We want you to be totally comfortable and at ease, knowing that your wedding will be perfect.
After you reserve your ceremony…
You may customize your ceremony with our expert help, and plan the entire ceremony minute by minute.
Receive friendly consultations at any time regarding your needs.
Make use of our extensive wedding resources.
Finish with a ceremony that your friends and family will remember forever!
On your special day…
You have an experienced, professional wedding officiant who is focused on you and your needs.
You will have the officiant's cellphone number so that you can be at peace by knowing where they are at all times and not have to worry if they will be on time.
Your officiant will provide you with reassurance, direction, warmth and presence and put you, your friends and your family at ease.
Your ceremony will be conducted with sincerity, dignity, joy and love. Everyone will tell you how much they adored your ceremony.
The secret of the perfect wedding "Two Hearts One Love," is to…
Choose the ideal venue where you and your guests will be comfortable.
Choose an experienced, reliable and wonderful officiant who takes pride in celebrating your wedding ceremony with you.
Share a custom-made ceremony and vows, which reflect your love for each other and your vision for your beautiful "Two hearts One love" wedding ceremony.  Click Here For a Free, Personalized Wedding Ceremony Package and Guide, or for more information about our wedding ceremony services, call Rev. Philip Sciscione at (484) 704-7825.

Wedding Officiant Delaware | DE Officiant | Wedding Ceremonies Delaware | | Delaware Wedding Minister