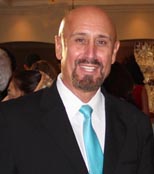 Hello and congratulations! You have found me (Reverend Philip)!
I am a full time wedding officiant and passionate about joining couples in love and honored to perform your ceremony. I do legally perform all Non-Denominational and interfaith ceremonies accepting all religions and spiritual beliefs for weddings in Pennsylvania, New Jersey, New York and Delaware.
Spiritual education:
Affiliated Minister with "The First Church of United Fellowship".
Ordained Minister by and on the Board of Directors for "The Church of Interfaith Christians"
Doctorate of Philosophy in Religion from "Life Ministry Church"
Doctorate of Biblical studies from "Life Ministry Church"
Member of Saint Andrews Lutheran church and choir.
Clergy director for "Two Heart One Love" wedding Officiants.
 Achievements and professions:
Wedding officiant and advocate of wedding nuptial commitments
Professional vocalist for both wedding ceremonies and receptions with www.soundinvestmentband.com since 1985
Author of six Behavioral therapy and educational books regarding treatment of Obesity and life counseling
Tae Kwon Do Black Belt Master: Awarded 4th Dan Black Belt December 1994.
Secular Education:
Temple University , M.Ed., Department of Psychology, 1975
West Chester State College, B.A., Psychology, 1972
Certified Personal Trainer National Academy of Sports medicine
Personal:
Born Philadelphia February 7, 1948
Married with 3 children and 3 grandchildren
Living in Norristown, Pa
Vocation: Wedding minister and classically trained vocalist
Meet Me and You Will Find Someone Who Is:
energetic and practicing a spiritually healthy active lifestyle
a strong leader and facilitator
passionate about your wedding
flexible and patient